How To Install
Our innovative wallpapers are super easy to apply and our high quality paper won't rip or crease on install. Kit yourself with a basic paint roller and tray, a wallpaper brush, a scalpel and a ruler. No need for a wallpaper table as our wallpaper is "paste the wall" meaning you will be applying your wallpaper paste (the glue) to your wall and then sticking your wallpaper to it. Other tools which are less essential but handy are a plastic smoothing tool, some wallpaper scissors, a brush and a seam roller.  
You can order pre-mixed wallpaper paste- no lumps guaranteed- and you simply close the tub once you are done meaning no wastage. We recommend Solvite paste to the wall, it rolls on pink and dries clear to make sure you haven't missed any bits!
Our wallpaper is of the highest quality, 180 gsm meaning that you will not rip the paper when installing. Smoothing the paper with the flat of your hand and using the wallpaper brush towards the edges as you stick the paper on the wall will help release any air bubbles. If some air bubbles are still apparent it is easy to un-stick and re-stick the paper to release.
Step by step
1- Choose a corner of your room to start with. Coat your roller with wallpaper paste and apply an even layer to the first section of your wall (the width of a couple of length of paper at a time). Apply the paper at the top of the wall, unroll and stick as you go. Brush away any air bubbles with your wallpaper brush and the flat of your hand. If some of the air bubbles don't disappear simply unstick the wallpaper before you keep unrolling. Cut the paper at the bottom of the wall using your ruler and scalpel.
2- Start back at the top of the wall butting up your second length with the edge of the first length applied. If you realise the paste has dried off on the wall, add some more with your roller. Keep unrolling your wallpaper making sure it's neatly butted up against the first length. No need to match the pattern as you are working with No Rules Wallpaper! Again, cut your length at the bottom of the wall with your ruler and scalpel.
3- Keep on applying more lengths to your wall. If a roll ends in the middle of the wall it's ok, just start back with a new roll below it by simply butting up the edges. Add more wallpaper paste if your wall feels dry. Our No Rules system means that there will be no wastage and your wall will be truly unique.
 A few things to note:
If any of the wallpaper paste accidentally transfers onto the front side of the paper, use a damp cloth to wipe clean.
We have an online wallpaper calculator alongside every wallpaper product on our Shop tab. Simply measure the width and height of your wall, enter the measurements and you will know how many rolls to order. If you wall has an odd shape and you would like some advice drop us a line with an image at hello@noruleswallpaper.com, we'd be happy to help!
Head over to our Instagram to see our tutorials highlight showcasing No Rules in action!
Where to find us
We're stocked across a range of showrooms where you can find sample binders showcasing our full product range and some feature wall installations to experience our designs in person.
inHOOS, Glasgow

91-93 Great Western Rd, Glasgow, G4 9AH.

0778 848 0421

Design Works, Glasgow

38 Gibson St, Glasgow, G12 8NX.

0141 339 9520

Cameron Interiors, Glasgow

458-462 Crow Road, Glasgow, G11 7DR.

0141 334 9532

Tangram Furnishers, Edinburgh

33-37 Jeffrey St, Edinburgh, EH1 1DH.

0131 556 6551

Jeffreys Interiors, Edinburgh

8NW Circus Pl, Edinburgh, EH3 6ST.

0131 247 8010
Catalog Interiors, Edinburgh

116 Raeburn Pl, Edinburgh, EH4 1HG.

0131 225 2888

Ampersand Interiors, Edinburgh

73 Dublin St, Edinburgh, EH3 6NS.

0131 557 6634

Bryce McKenzie Design & Decoration, Edinburgh

35A Dundas St, Edinburgh, EH3 6QQ.

0131 556 2185

TOJO, Helensburgh

32E Princes St, Helensburgh, G84 7QA.

0775 385 8586

Envision Contemporary Interiors, Stirling

10 Munro Rd, Stirling, FK7 7UU.

0795 019 7768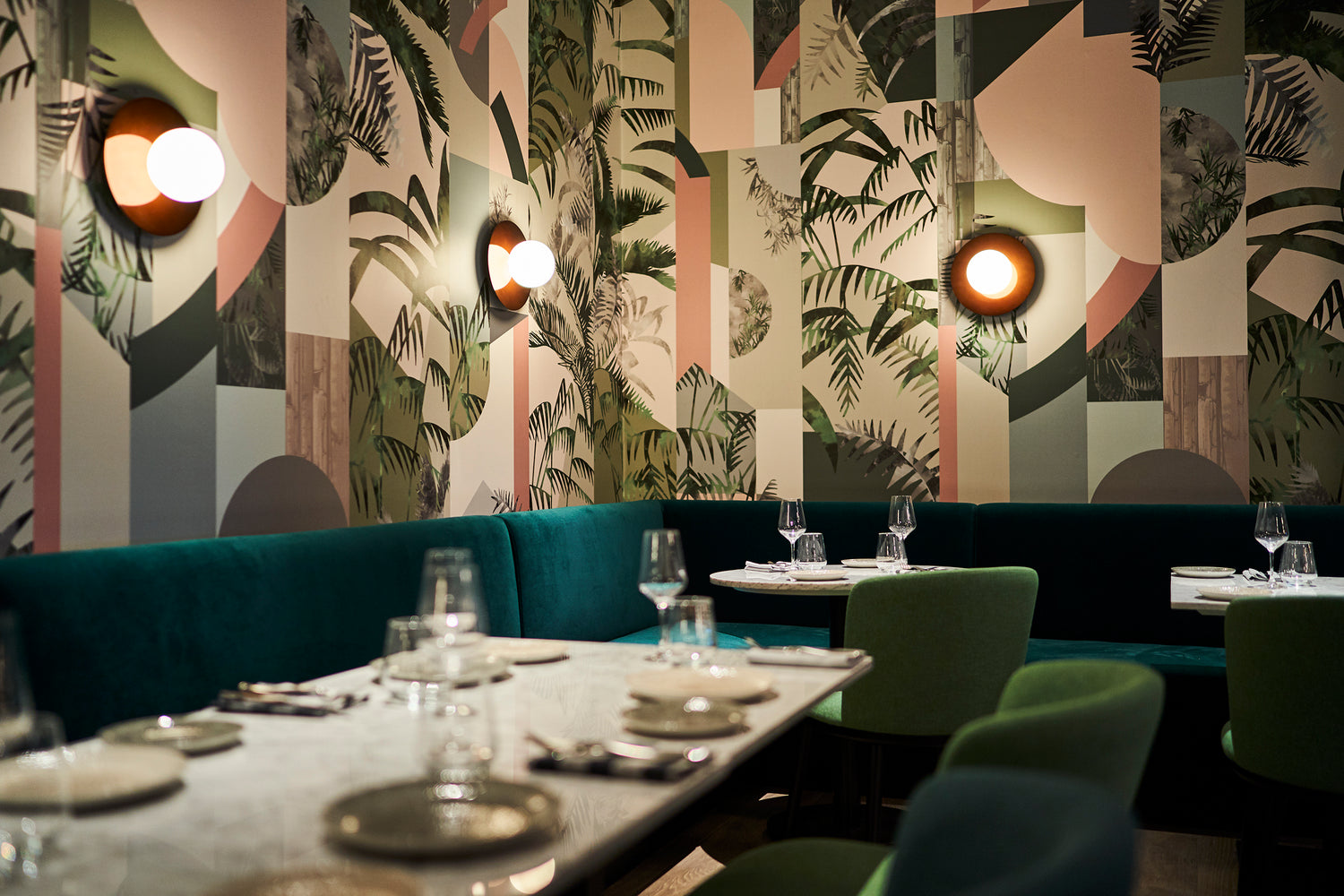 Holiday Inn Hotel, London Heathrow
Working with London based design company Studio Mica, we created a mural like booth area for a restaurant at the newly built Holiday Inn at London Heathrow. Jungle and Reflections wallpapers in Dawn create a memorable dining experience with a vibrant, fresh atmosphere. The non match concept allowed us to combine designs to create a truly unique, dynamic space.
Client Comments
"Bespoke Atelier's unique and bold wall coverings worked perfectly with our design for the front of house interiors at Holiday Inn Heathrow. The scale of their designs and organic abstract patterns enabled us to create an interior and ambience that has proved ideal for eating and drinking in a large scale and unusual atrium piazza at Hi Pizza restaurant and bar. We loved the random concept of the design and that it was available in a vinyl finish that met the fire classification required."