Privacy Policy
This privacy policy explains the ways in which we collect, store and use the information you provide while interacting with our website.
We are committed to customer privacy and adhering to the 1995 EU Data Protection Directive and the European General Data Protection Regulation (GDPR), which came into law on 25th May 2018.

What information do we collect?
The amount and type of information we collect depends on how you interact with our website. If you sign up to our mailing list using the form embedded within the footer of each page the only information we collect is your first name, surname, and e-mail address.
If you send us a message via the contact form on the Contact Us page on our website, the only information we collect is your first name, surname, email address, and the written content of any message you include.
If you purchase products through our website, we need to collect some more details from you in order to deliver the products and process the sale securely. The information we collect during a sale consists of: your first name, surname, email address, telephone number, billing address, and delivery address. You will also enter your payment details via our website, however these are sent directly to our merchant provider Shopify, who process the payment and shield sensitive payment details. You can read Shopify's privacy policy on their website, which incudes details about the high level of security they adhere to.

How will the information be used?
We will never sell or pass your data on to a third party, or use it for any purpose other than those stated below.
If you enter your details into a waiting list form for a product that is out of stock, we state that you will be informed via e-mail when that product is back in stock, and that we will add you to our mailing list to be notified of future releases and news.If you purchase products through our website, the information you enter to complete the sale will only be used for purposes related to the sale. When purchasing goods, the e-mail address you provide will not get added to our mailing list or used for any purpose other than to contact you with confirmation of the order or any queries we might have relating to it.If you purchase products through our website, your address, e-mail address and telephone number will be passed on to our chosen courier or shipping company to allow them to deliver goods and contact you in order to aid delivery of goods. They will not use this information for any other purpose. This is generally limited to three 3rd parties DHL, DPD, and Royal Mail, however we reserve the right to use other carefully chosen 3rd parties for shipping goods if necessary. We will only provide address, e-mail and telephone number details to 3rd party couriers who adhere to strict privacy regulations.If requested to by UK authorities, we may pass your details on to them for reasons related to fraudulent or criminal behaviour.
How will the information be stored?
The way we store the information we collect depends on how you interact with our website. If you sign up to our mailing list using the form embedded within the footer of each page, or enter your details into a waiting list form for a product that is out of stock, we will store your information securely via Shopify's internal in CRM system. You can read their privacy policy on their website. If you send us a message via the contact form on the 'Contact' page of our website, we will store your information securely on our physical server and an online 'cloud' back-up. These storage mediums are password protected and encrypted. We regularly review the security of our storage mediums to make sure data will not be compromised.If you purchase goods through our website, your first name, surname, e-mail address, telephone number, billing address, and delivery address will be stored securely on our physical server and an online 'cloud' back-up. We will not store any sensitive payment information on our servers: this is stored by our merchant provider, Shopify.
Marketing
We will only send you marketing correspondence via e-mail. We believe the marketing correspondence we will send you is relevant, useful, and of interest. If at any time you wish to stop receiving marketing correspondence from No Rules Wallpaper you can email us, call us, or update your marketing preferences by clicking the button at the bottom of any marketing related e-mail you receive.
Accessing your information 
You have the right to request a copy of the information that we hold about you. If you would like a copy of some or all of the personal information we hold about out, please email us via hello@noruleswallpaper.com.
We want to make sure that your personal information is accurate and up to date. You may ask us to correct or remove information you think is inaccurate.
Cookies 
Cookies are text files placed on your computer to collect standard internet log information and visitor behaviour information. This information is used to track visitor use of the website and to compile statistical reports on website activity. You can set your browser not to accept cookies and the above website tells you how to remove cookies from your browser. However in a few cases some of our website features may not function as a result.
Other websites 
Our website contains links to other websites. This privacy policy only applies to this website. If you click on links to any other websites, please read their privacy policies and make sure you agree with them.
Changes to our privacy policy 
We keep our privacy policy under regular review and will make updates on this page when necessary. Will will inform all customers via e-mail if we update our privacy policy.
Last updated: 20th of July 2022
How to contact us 
If you have any questions, please contact us via email, telephone, or online form via the Contact Us page on the website.
Where to find us
We're stocked across a range of showrooms where you can find sample binders showcasing our full product range and some feature wall installations to experience our designs in person.
inHOOS, Glasgow

91-93 Great Western Rd, Glasgow, G4 9AH.

0778 848 0421

Design Works, Glasgow

38 Gibson St, Glasgow, G12 8NX.

0141 339 9520

Cameron Interiors, Glasgow

458-462 Crow Road, Glasgow, G11 7DR.

0141 334 9532

Tangram Furnishers, Edinburgh

33-37 Jeffrey St, Edinburgh, EH1 1DH.

0131 556 6551

Jeffreys Interiors, Edinburgh

8NW Circus Pl, Edinburgh, EH3 6ST.

0131 247 8010
Catalog Interiors, Edinburgh

116 Raeburn Pl, Edinburgh, EH4 1HG.

0131 225 2888

Ampersand Interiors, Edinburgh

73 Dublin St, Edinburgh, EH3 6NS.

0131 557 6634

Bryce McKenzie Design & Decoration, Edinburgh

35A Dundas St, Edinburgh, EH3 6QQ.

0131 556 2185

TOJO, Helensburgh

32E Princes St, Helensburgh, G84 7QA.

0775 385 8586

Envision Contemporary Interiors, Stirling

10 Munro Rd, Stirling, FK7 7UU.

0795 019 7768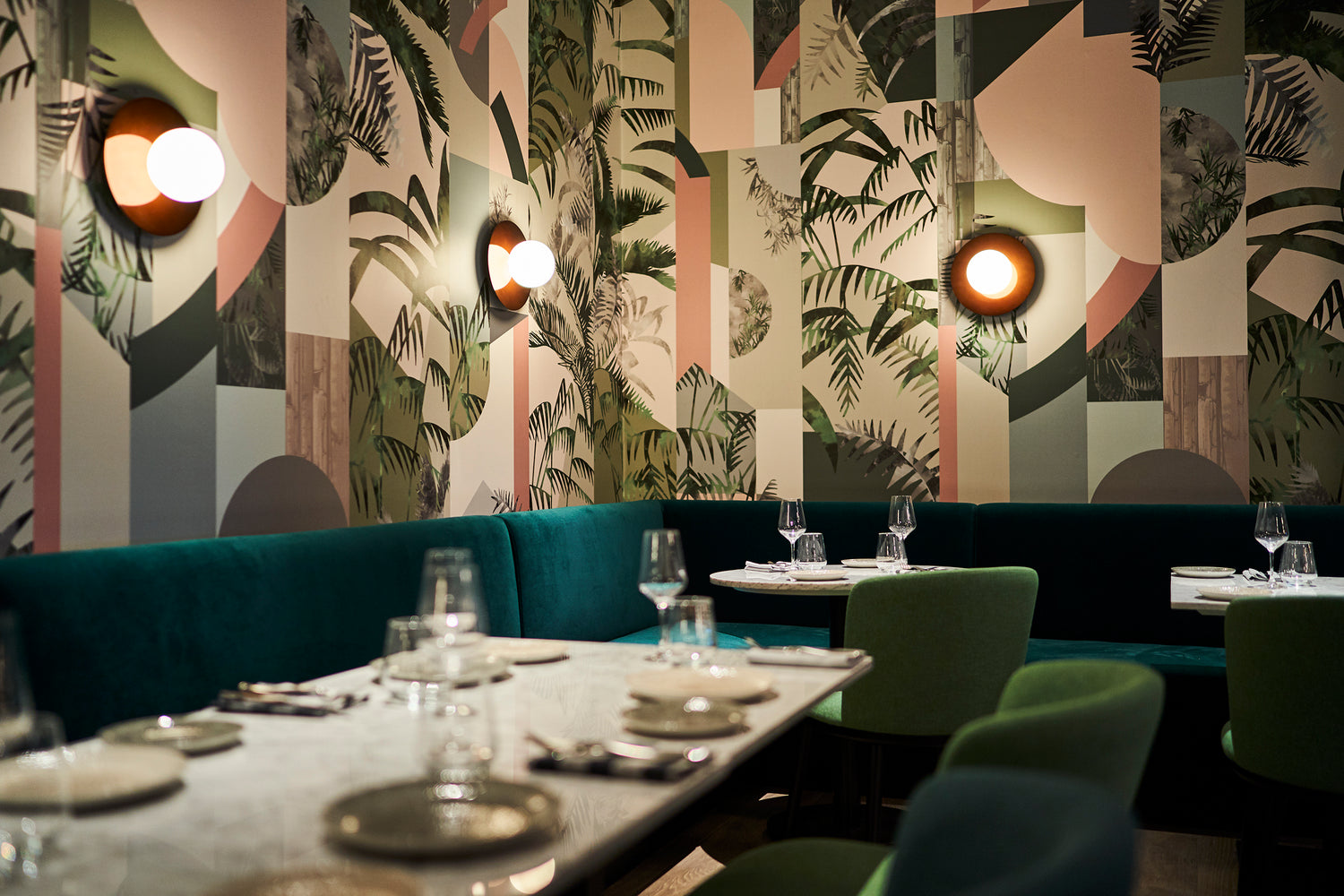 Holiday Inn Hotel, London Heathrow
Working with London based design company Studio Mica, we created a mural like booth area for a restaurant at the newly built Holiday Inn at London Heathrow. Jungle and Reflections wallpapers in Dawn create a memorable dining experience with a vibrant, fresh atmosphere. The non match concept allowed us to combine designs to create a truly unique, dynamic space.
Client Comments
"Bespoke Atelier's unique and bold wall coverings worked perfectly with our design for the front of house interiors at Holiday Inn Heathrow. The scale of their designs and organic abstract patterns enabled us to create an interior and ambience that has proved ideal for eating and drinking in a large scale and unusual atrium piazza at Hi Pizza restaurant and bar. We loved the random concept of the design and that it was available in a vinyl finish that met the fire classification required."